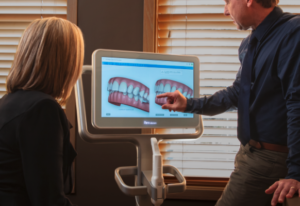 To provide our patients the best possible care we've invested in the latest technology. One of our most recent additions is an iTero imaging system. The intraoral camera creates 3D digital impressions that can generate treatment simulation without harmful radiation.
This newest system also aids in detection and monitoring of caries.
Our patients will be able to see the changes in their dental health over time to keep an eye on treatment progress and health changes.
iTero also has an Invisalign Outcome Simulator, which will visualize your new smile after the Invisalign treatment.
What is so great about it?
iTero intraoral scanners offer an excellent means for visualizing restorative dentistry treatments — from crowns and bridges to veneers, onlays, and more.
iTero solutions go a long way toward shortening the time between the initial scan for Invisalign® treatment to the patient's first set of aligners.
ITero supports a more productive workflow with the labs.
We can help you keep your teeth and gums healthy. Call us today – (703) 848-8906