Porcelain Dental Crowns and Bridges in Vienna, near Fairfax, Virginia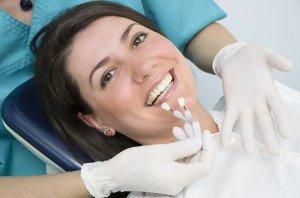 When the structure of a tooth needs to be strengthened or restored, dental crowns, or "tooth caps" can be used.  Dental bridges, similar to dental implants, are used to replace a missing tooth or teeth.  At Tyson's Dental, we use only porcelain dental crowns and bridges.  From our office in Vienna, Virginia, near Fairfax, our cosmetic dentists restore the beauty of teeth using the latest dentistry procedures and most advanced technology.  Continue browsing our site to learn about the other procedures we specialize in, or contact Tyson's Dental for more information today.

CALL US TODAY (703) 848-8906      BOOK AN APPOINTMENT
Porcelain Dental Crowns
Unlike porcelain veneers that cover only the front portion of a tooth, porcelain dental crowns are used to cover the entire tooth after it has been damaged due to decay or breakage.  At Tyson's Dental in Vienna, Virginia, we use high quality porcelain dental crowns that provide long-lasting protection from future damage.  Porcelain can be matched to the exact color of your teeth, is stain resistant, and is stronger than metal.  Patients interested in whitening their teeth through our in-office teeth whitening system should do so before porcelain crowns are placed to ensure an exact color match.
If you are a candidate for porcelain veneers, our cosmetic dentist will prepare your tooth and take an impression.  A temporary crown will then be applied until the custom fitted porcelain crown arrives.  On a second visit to our Vienna, Virginia office, we will make any last adjustments to ensure a comfortable fit and permanently attach the porcelain crown to your tooth.  The result is a natural looking, durable, porcelain crown that protects the underlying tooth from decay and damage.
[KGVID width="640″ height="360″]http://www.tysons-dental.com.php53-5.dfw1-2.websitetestlink.com/wp-content/uploads/2013/CopyProtect.flv-324jladjvn3/15BridgeandCrownH8-C3.mp4[/KGVID]
Dental Bridges
Dental bridges are made up of two porcelain dental crowns on either side of a false tooth, and are used to bridge the gap between a missing tooth or teeth.  At our office near Fairfax, Virginia, we use sturdy, durable porcelain to construct our bridges.  This ensures a longer lasting, more comfortable bridge that is stain resistant and matched to the exact color of the surrounding teeth.  Dental bridges are one of several ways our Vienna smile makeover team can replace missing teeth.  We are also skilled in the placement of dental implants and dentures.  It is important to choose a cosmetic dentist who is familiar with the differences between bridges, dentures, and implants to ensure that you choose the best possible option for restoring your smile.  To schedule a dental consultation with one of our dentists, contact Tyson's Dental in Vienna, Virginia today.
Contact Tyson's Dental Today
For more information about porcelain dental crowns and bridges, contact our Vienna, Virginia office.  Also serving Fairfax and surrounding areas, the dental professionals at Tyson's Dental can give you a whiter brighter smile, and improve your overall oral health.
We are serving Tysons Corner, Vienna, McLean, Fairfax, and all of Virginia.
We can help you keep your teeth and gums healthy. Call us today – (703) 848-8906